Selecting a location for your outdoor kitchen
Once you have made a blueprint of your requirements, the next important step is to select a good location for your outdoor kitchen.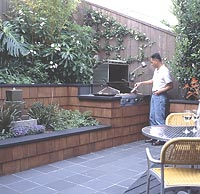 The location should preferably be near the house to save walking steps carrying supplies.An existing backyard patio can become a great foundation for your kitchen and avoid the need of making structural modifications. You could also go in for making a backyard deck for a more elaborate setup.
Once the area has been decided start scouting for the ideal place for installing the grill.
The smoke from the grill should not blow into your house or into the faces of family and friends sitting around to eat their meals. Check in which direction the wind blows in your area. Ideally the smoke of the grill should be carried away from the house by wind.

An existing patio can become the foundation of your outdoor Kitchen. 
The grill should also be near the edge of a shade structure so that smoke can easily escape and not be trapped by edge of the structure. Trapped smoke over a long period of time can blacken the roof structure and make it look ugly. In case the grill has been installed in an enclosed area consider adding an exhaust hood or a fan.
In case your outdoor kitchen does not have a supporting roof structure, have a backup plan of storing your grill and other equipment in case of rain or storms.
Navigation
Getting Started
Introduction
Estimated Costs
Design Styles
Planning Tips
Choosing a Location
Choosing Materials
Select Equipment
Outdoor Grills
Kitchen Islands
Outdoor Sinks
Outdoor Refrigerator
Accessories
Outdoor Flooring
Counter tops
Related
Outdoor Kitchen Books
Find Local Contractors
Articles
Recommended Book