Choosing an Outdoor Grill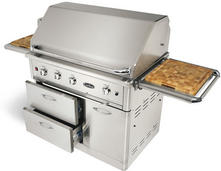 The most common option for cooking outdoors is the barbecue grill.Your outdoor grill would form the centerpiece of your outdoor kitchen. Choose it with care !Buying the perfect grill could be bit of a challenge considering the number of available options and price ranges in the market. The grill featured in the image is Capital Performance Series PSQ40RC and can reach $6000 in cost ! Depending on your budget you could go in for prefabricated , semi custom or custom made grills.
If you are a high end griller living in California, Florida, Texas, or another state that is warm 90% of the year and love to cook outside try considering the upper end grill in whatever line you're looking at. On the other hand if you are a low end griller and cook out occasionally on Memorial Day, Fourth of July and maybe Labor Day then a basic $99-$129 grill would do fine.
The first decision you need to consider while buying an outdoor grill is whether to have it fixed or flexible. If you want a outdoor kitchen that can be rearranged or moved into a new house choose a grill with wheels. They come in a variety of sizes, features and prices. Permanently installed outdoor grills on the other hand fit into a space on a cabinet with counter tops.
Types of Outdoor Grills
The main Grill types are charcoal and gas grills. A hybrid variety combining the two has also hit the market and is higher priced than it's counterparts. You could even consider electric grills but many people do not find them giving authentic taste to their lovingly cooked barbecue. Old is Gold. eh !
Charcoal grills can range between $ 80 for a simple setup to about $1500. Higher end versions such as the Weber Performer series include additional work shelves, charcoal storage areas and auto ignition systems. Many grilling enthusiasts prefer charcoal grills for its typical traditional aroma & flavor it imparts to food.
Gas grills on the other hand offer ease in cooking and better control over temperatures. Though they cost more upfront but, are generally less expensive in the long run since gas tanks last longer and are cheaper than charcoal. Prices range between $ 200 to about $ 4000. A typical indoor range consumes about 10,000 – 12,000 Btu of cooking power. Outdoor Gas grills can consume from about 22,000 to about 50,000 Btu of cooking power. (British Thermal Units (BTUs) measures the total input of all of the burners on a gas grill. Higher the BTU the hotter your grill will get. If you decide on buying a gas grill make sure to have 2 -3 burners on it for cooking dishes simultaneously.
Other aspects you need to consider while buying a grill are the size of the grill , height and finish. The shape of the grill is also important.Grills typically come in box shape or kettle shape. Kettle shapes allow the heat and smoke to wrap up around the food better than box shape unless you have a really big grill. The box shape work best for hamburgers and hot dogs. 

A cover  is a must for a grill that is going to remain outside. They are available for most grill sizes and are made of waterproof material.
Navigation
Getting Started
Introduction
Estimated Costs
Design Styles
Planning Tips
Choosing a Location
Choosing Materials
Select Equipment
Outdoor Grills
Kitchen Islands
Outdoor Sinks
Outdoor Refrigerator
Accessories
Outdoor Flooring
Counter tops
Related
Outdoor Kitchen Books
Find Local Contractors
Articles
Recommended Book