Your guide to buying an outdoor grill cover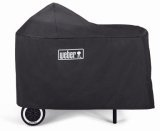 You have or are thinking of buying a new gas grill, the first thing you want to do is protect it by buying a cover. The outdoor grill cover will protect your grill from the weather, dirt dead leaves and bird droppings prolonging its life. Often the company you brought your grill from will also offer a suitable cover however these can be expensive, though will have been designed specifically to fit your grill. Alternatively there are many grill covers which are adaptable enough to fit a wide range of grills and can be adjusted to fit.
The most important thing you have to consider is where and in what conditions your gas grill will be stored. If outside, in an area known for strong winds then a cover that can be very securely, attached to you grill is a priority. If the climate is relatively mild and stays mostly the same all year then you will need a much less durable cover than if the weather were more extreme.
If however your grill is to be stored in a shed or garage then it will act as a dust cover and not need to deal with intense temperature changes and moisture though both indoor and outdoor grill covers need to be resistant to the attentions of small rodents and insects. Many owners have found there fleece or felt lined grill covers used as nesting material by small rodents and even birds. Also fleece once wet takes ages to dry out. Plastics and vinyls won't attract the wildlife.
Sharp edges on your gas grill may cut into a less well made and un-reinforced covers it is essential the material is tough or reinforced in the areas likely to be damaged in this way. If your grill is to be outside all year round then I recommend spending a bit more and going for a high quality cover which fits well and securely as these often last for many years.
Cheaper versions have to be replaced every year as they are often made from vinyl or plastics which crack under extremes of temperature and will need replacing yearly. If you are considering vinyl go for 12 gauge, lesser gauges tend to be less resistant to the weather. Polyester is much more durable being lightweight, watertight and unaffected by ultra violet radiation and can last for many years. A gas grill is an investment so should the cover.
Navigation
Getting Started
Introduction
Estimated Costs
Design Styles
Planning Tips
Choosing a Location
Choosing Materials
Select Equipment
Outdoor Grills
Kitchen Islands
Outdoor Sinks
Outdoor Refrigerator
Accessories
Outdoor Flooring
Counter tops
Related
Outdoor Kitchen Books
Find Local Contractors
Articles
Recommended Book