Outdoor Refrigerators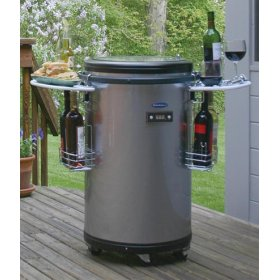 In premium outdoor kitchens, a refrigerator is a must have addition. While cooking food outdoors you may regularly need to make a dash indoors for drinks and other supplies which requires refrigeration. Though a refrigerator might be investment it makes up for its convenience.
Depending on how you would like to place your outdoor refrigerator you could opt for either freestanding or refrigerators which can be installed under the counter top.If you make heavy use of your outdoor kitchen an under the shelf refrigerator could prove convenient in the long run.
Refrigerators also come in a wide variety of shapes and sizes. Most common shapes are rectangular which come with different number of shelves  , however cylindrical shaped refrigerators are also common. Popular finishes are stainless steel , white or black.
The life of a outdoor refrigerator is much lesser than an indoor refrigerator. Even though manufacturers claim weather resistant, stainless steel construction, if you live in places with extreme climate changes, like the Northeast of U.S, or somewhere near a desert or maritime environment, then your refrigerator may not last a long time. Expect it to last around 3-5 years.
There are two technical classifications for refrigerators which you need to consider while buying: UL approved for outdoor use and non UL approved.  A UL approved refrigerator has larger compressor and has wiring/electronics designed for wet, tough outdoor environments. They can cost you around $1000.  Because of the high cost of UL approved variety many people for go the cooling capability and opt for non UL refrigerator.
Popular brands for outdoor refrigerator are DCS , Lynx ,Marvel , Summit , U Line.
Navigation
Getting Started
Introduction
Estimated Costs
Design Styles
Planning Tips
Choosing a Location
Choosing Materials
Select Equipment
Outdoor Grills
Kitchen Islands
Outdoor Sinks
Outdoor Refrigerator
Accessories
Outdoor Flooring
Counter tops
Related
Outdoor Kitchen Books
Find Local Contractors
Articles
Recommended Book