How to plan for a Outdoor Kitchen
"I still love making hamburgers on the grill. I guess whenever I eat them childhood memories come up for me." Bobby Flay
The extent to which to which you can build your outdoor kitchen is only limited by your creativity and budget. Outdoor kitchens cost from $ 3000 for a high quality grill and a counter and patio to about $ 15,000 for higher end versions with an assortment of appliances. If you want to add a dash of luxury you could even hire a designer to give it a breathtaking look.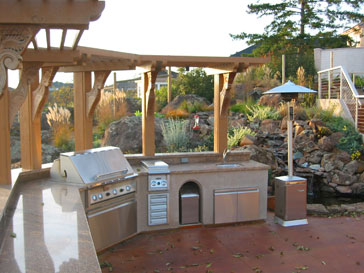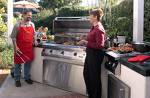 Whether you are designing it yourself or taking the help of a designer some factors which you need to consider while planning are:
Your budget limit.
The type of cooking you will do and how often.
Whether you will you eat the food outside or bring it inside the house.
Whether you are designing the outdoor kitchen for a small family or are planning to use it as a place to host party gatherings .
The furniture that needs to be used with the design .
The time of the year you will be using the outdoor kitchen .
Whether you want the outdoor kitchen to be a flexible , movable arrangement or do you want it permanently installed .
The more thought and research you put into the planning stage , the better the end product will be ,and  more you'll enjoy the burgers, brats and beer !
Navigation
Getting Started
Introduction
Estimated Costs
Design Styles
Planning Tips
Choosing a Location
Choosing Materials
Select Equipment
Outdoor Grills
Kitchen Islands
Outdoor Sinks
Outdoor Refrigerator
Accessories
Outdoor Flooring
Counter tops
Related
Outdoor Kitchen Books
Find Local Contractors
Articles
Recommended Book